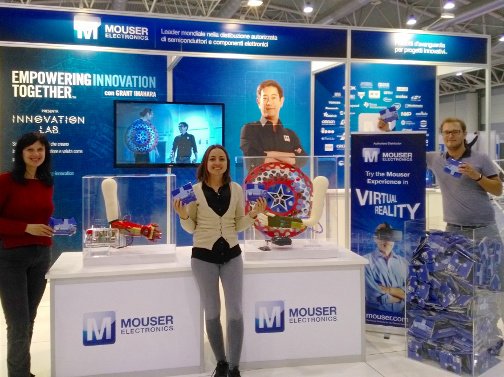 Virtual Reality features heavily at Europe's largest electronics show
Electronica takes place every 2 years at the Munich Messe and is a magnet for the key movers and shakers of the electronics industry, attracting over 2,500 exhibitors and 100,000 visitors. Semiconductor giants such as Samsung, Intel, ARM, AMD & Texas Instruments take this opportunity to announce their latest product roadmaps, and when they speak, the tech world listens. It's these companies that's at the heart of electronics innovation, companies such as Apple, Sony and Google rely on the electronic components to power their products. It's perhaps not surprising therefore that Electronica saw a heavy VR presence this year, with many companies opting to use VR on their exhibition stand in an attempt to woo potential customers
Austella developed VR applications for two clients – Mouser Electronics & RS Components.
Mouser launched their 360 corporate video that charted a components journey through the warehouse along 2.5 miles of conveyor system.
RS Components took a very different approach, using the evolution of gaming from the 70's to modern day VR games to demonstrate how the electronics industry has powered the gaming sector.
Both companies wisely chose to giveaway branded VR headsets, this helped to reinforce their brands with customers and provided valuable post-event positive sentiment.